Gaelhawks Spread Pep With T-shirt Cannon!
Written by Leann Misencik on April 10, 2011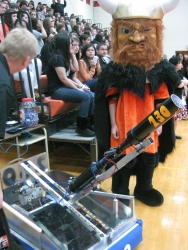 The Gaelhawks showed their school spirit at the Shelton High spring pep rally this April. Team Captain Kelli Freer demonstrated the prototype robot, by driving it around the gym with its mecanum drive. Then, the Gaelhawks got the entire school excited about science and technology by launching shirts from a t-shirt cannon, which was built and programmed by the team. The robot, cheered on by the entire student body, blasted shirts across the gym, into the bleachers. The Gaelhawks recieved positive feedback about their demonstration, and hope to participate in future pep rallies!