Shelton High School Robotics Team Earn Prestigious Award
Written by Shelton Weekly on April 08, 2011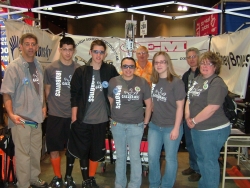 Gaelhawks invited to national championship competition
Staff report
SHELTON - The 2011 Northeast Utilities FIRST Connecticut Regional Robotics Competition was held this past weekend at the CT Convention Center. Teams from Brazil, Connecticut, Massachusetts, New Hampshire, New Jersey and New York provided robots for the competition, in which the game Logo Motion was played.
The game consists of two competing alliances on a flat field. Each alliance consisted of three robots which need to pick up and hang as many inflatable plastic shapes on a grid during a two minute and fifteen second match. Student drivers manipulate the robots during the competition, which end with robots deploying minibots, small electro-mechanical assemblies that attach to a vertical pole and race to the top. Points are awarded for each inflatable shape that successfully lands on the grid board and for minibot race winners.
The Shelton Gaelhawks, Shelton High school's Robotics Team, competed in the event. Led by advisors, John Niski and Kerry Taylor, and Co-Captains Leann Misencik and Kelli Freer, the Gaelhawks placed sixth overall. They were awarded the prestigious Engineering Inspiration Award, which celebrates a team's outstanding success in advancing respect and appreciation for engineering and engineers, both within their school as well as their community.
"l attended my first Robotics competition over the weekend and was amazed at the teamwork and skill involved from testing the robot, to driving and scoring during the competition, to scouting other teams. Our teem focuses on working in partnership with community' members. This year our team mentored teams from Bridgeport and New Haven. I am proud of the Gaelhawks for earning the prestigious Engineering Inspiration Award. It is well deserved,'" said Dr. Beth Smith, headmaster.
The Gaelhawks receive sponsorship and work with individuals from UTC Sikorsky, OEM Controls, Pitney Bowes and Intuitive Surgical. The team qualified for the FIRST Robotics National Championship to be held April 27 to 30 in St. Louis. Anyone who would like to mail a donation to assist in defraying the cost of the trip may send donations to Shelton High School Robotics, c/o John Niski, 120 Meadow Street, Shelton, CT 064684