Robotic Revolution Win Top State Award
Written by Huntington Herald on December 11, 2011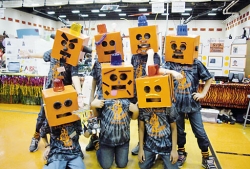 Shelton High School's gym was crowded and packed with fans on Saturday, wearing team colors and watching large screens showing close-ups of competitions.
It wasn't an athletic event, but it has been called "the varsity sport for the mind."
How can you be sure an egg is safe to eat or that the Thanksgiving turkey leftovers haven't gone bad? Perhaps you have a severe peanut allergy and need to be sure an area is peanut-free. How do you do it? Shelton students from Perry Hill and Shelton Intermediate schools answered these questions and more at a FIRST (For Inspiration and Recognition of Science and Technology) LEGO League Qualifying Tournament, hosted by Shelton for the last eight years.
"It's way more than a science fair," said John Niski, FIRST league adviser for Shelton schools.
Four Shelton teams, two from Perry Hill and two from Shelton Intermediate, competed against 24 other teams from around the region. Shelton Intermediate School 's Robotic Revolution team took home the top award, and two other teams, the Perry Hill Predators and the SIS Thundering Tigers, also qualified for one of the nine spots to the FLL state competition this weekend, where 48 teams compete. The Predators also won an award for best robot design. The Perry Hill Dominators also competed in the tournament.
A total of 38 Shelton students were chosen to be on the teams in September. An additional 40 applied to the increasingly popular after-school program. The groups meet on Saturdays. Many parents volunteer to work with teams, and Niski and members of Shelton High School's robotics team, the Gaelhawks, act as advisers and mentors. Each team worked for the last 10 weeks, creating an innovative idea regarding this year's theme.
"Each year we have to do something related to a world problem," Jafar Vohra, of Shelton Intermediate's Thundering Tigers team, said. "This year it's food safety."
Jafar's team created a machine to detect peanut allergens on a surface.
The champions, Robotic Revolution, created a "smart sticker" that would help prevent people from eating eggs that are infected with salmonella. The green sticker would turn red once an egg was stored above the regulation temperature of 45 degrees. Even if it was put back at the right temperature, the sticker would remain red, letting buyers know the egg had reached an unsafe temperature and could contain salmonella.
The group was partly inspired after Tropical Storm Irene, when power outages made many wonder what was still safe to eat.
But the research project and presentation based on food safety isn't the only part of the competition. Teams have to show they meet Lego League Core Values, including teamwork, understanding that what they discover is more important than winning, exhibiting "gracious professionalism," and having fun.
Judges give each team a task and watch how they work together.
The final part of the competition is robot design and mission accomplishment. Each team builds a Lego robot and that robot must complete missions, including tasks like dumping, piling and catching objects.
"They are learning a lot of important stuff," Niski said.
Lorri O'Malley, mother of one of the members of Robotics Revolution, saw the change in the team as members continued to work together and meet core values. In the beginning, there was a little arguing among team members.
"By the last weekend they were so supportive of each other and never shut someone down when they had an idea," O'Malley said.
O'Malley later received the tournament's Louis J. Schmecker Outstanding Mentor award for her efforts.
The Revolution received the "Champions" award for displaying "incredible success in every area of the competition," Niski said.
The three Shelton teams will move on to the state competition. FIRST Lego League is an international nonprofit program, but Connecticut didn't receive a bid this year to the international competition in the spring.
Popularity
There are six regional tournaments in the state where teams may qualify for the state tournament
Great tournaments are run all over the state, Niski said, but Shelton's is one of the most popular for teams in the area.
"We do it a little bigger — like the big screens showing the robot missions," Niski said. "The opening registration day, we started the same day as everyone else, but we sold out in four minutes."
Some of the other teams on Saturday came from towns like Fairfield, Greenwich, Waterbury, and Stamford.
Niski said the unique structure of the program allows students to learn a lot. Last year's theme was the human body. A Shelton Intermediate School team did a project on early detection for heart attacks, and in the process each member learned CPR and first aid.
Part of the hidden agenda, Niski said, is that the team members from Shelton will someday join the high school team, but it's also about fostering interest in science and math. Picking students for the Shelton teams is not just based on students who excel in math and science.
While some kids may be brilliant when it comes to science, other students might be chosen for their teamwork or other qualities.
"We try to get a good mix of boys and girls and skills," Niski said.
It's also a program that local engineers from Sikorsky and other surrounding organizations help organize. Judges walking around Saturday were engineers who volunteered their time.
It's also a great way for kids to get experience working with parents and older students from the high school.
Right now, Niski is adviser to all four teams as well as the high school teams, but he hopes the program can grow in the future.
"What's more fun than LEGOs and robots?" Niski said while surveying the packed gym and the excitement. "It's geek heaven."