Shelton Public Schools Robotic Revolution Team Earns Finalist Spot
Written by John Niski on May 11, 2012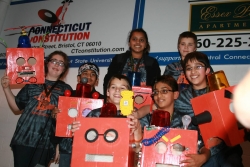 Shelton, Conn., May 11, 2012 – From more than 19,000 teams around the world that initially submitted projects in this year's international FIRST® LEGO® League challenge, a team of seven middle school students from Shelton, Connecticut has risen to the top in the Global Innovation Award competition. Shelton's SIS Robotic Revolution Team is one of four finalists, along with teams from Ohio, New York and Israel, who will be in Washington, D.C. on June 19 to be honored at an awards ceremony at the U.S. Patent and Trademark Office.
Since 1998, FIRST LEGO League (FLL) has been challenging young people to think like scientists and engineers. Alongside adult mentors, student teams develop solutions to real-world problems for a specified issue, using engineering concepts, presentation techniques, and robots. This year, the FLL challenged kids around the world to solve a food safety problem.
The 6th, 7th, and 8th grade student team from Shelton Intermediate and Perry Hill Schools developed their idea for a "Smart Sticker" after the Northeast experienced major power outages last fall. Having witnessed how refrigerated food in homes and grocery stores that experienced power loss became undependable and unpredictable, they conceived of a "Smart Sticker" to place on the outside of a refrigerated food container, such as an egg carton, that will show if the food has been properly stored at the appropriate temperature during transportation and storage. When properly stored, the sticker has a positive color (green), but if left outside the acceptable temperature range for an extended period of time, the sticker will irreversibly change color (red) to indicate possible food contamination. If the food is placed back into appropriate temperature storage, the sticker will NOT change back to its original green color. The "Smart Sticker" was originally designed to protect eggs, but additional research enabled the team to adapt its use for other products.
"For middle school students to look at a food safety problem and come up with an innovative solution is a remarkable thing," said team advisor and Shelton High School teacher John Niski. "We're pushing our kids to look at real world problems and come up with real solutions. I'm thrilled to be a part of it."
The team initially presented their idea to a panel of judges at the FLL Regional Qualifying Robotics Tournament and won the Champions Award. Then they presented at the FLL Connecticut State Tournament and won the Best Innovative Solution Award. That qualified them to apply for the FLL Global Innovation Award. They also applied for and received a provisional patent for their idea.
The ultimate winner of the FLL Global Innovation Award will receive up to 0,000 in product development services from the program sponsor, Edison Nation, to professionally develop, produce and take their invention to market. SIS Robotic Revolution Team members include: Victoria O'Malley, Aravind Ravishankar, Sejal Bhargava, David Dzujna, Keyur Shah, Joseph Niski, and Raj Ganjikunta.