Gaelhawks Shine Bright...Deep in the Heart of Texas!
Written by Alicia Cox on April 12, 2003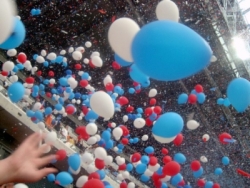 The Shelton High School Robotics Team experienced a very successful 2003 season in regional competitions. Not only did they win two prestigious awards, but also qualified for a 5th year in a row to participate in the FIRST National Robotics Championships which were held in Houston, Texas. The National Competitions hosted two hundred ninety two teams from the United States, Brazil, England, and Canada.
Forty representatives of the Gaelhawks, including students, teachers, engineers, and parents, departed from LaGuardia Airport on April 9th destined for the Lone Star State. Upon arriving Wednesday evening, the students found a modern city, luxurious hotel accommodations, and beautiful summer weather; a refreshing change from the snow and cold left behind in New England.
The following morning the true Texas experience began with an early breakfast followed by the trip to Reliant Park to set up for the events. Students were amazed at the enormity of the Park, home of the 2004 Super Bowl. Team members ventured out to claim their territory in the arena, set up the Pit Area in the Astrodome where the robot would be based between the actual matches, and prepared for the tremendous task of scouting the other teams in the division.
The robot performed well during the practice rounds on Thursday and was then readied to participate in the qualifying matches to be held on Friday and Saturday. Talon IV put forth a gallant performance and even though sufficient points were not attained to qualify the Gaelhawks for the final rounds of competition, the team members were extremely proud of their efforts and of the robot?s response.
The competition ended with the award ceremony attended by Texas Governor Rick Perry, founder of FIRST, Dean Kamen, and other honored guests. In his concluding remarks, Mr. Kamen stated, "From designing and building the robots to competing in the championship, these teams have met their challenges and succeeded . What they have learned and experienced with fellow students and mentors will help and inspire them in the future." Following his words, the ceremonies concluded with ticker tape and balloons falling from the stadium rafters onto a crowd of young and old reveling in their successes and victories.
After the concluding ceremonies, a fun-filled evening was enjoyed by all at Six Flags Astro World followed by shopping at the world famous Galleria Mall in Houston. The Gaelhawks prepared for their departure on Sunday morning, anxious to share the memorable experiences of the past five days with family and friends back home.