Nano Quest
Written by T.J. Lipscomb on November 04, 2006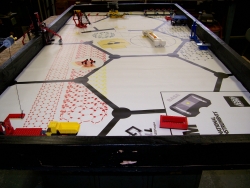 In addition to participating in the FIRST Robotics Competition, Team 230 helps prepare younger students by mentoring the SIS FIRST Lego League team. The "Thundering Tigers" have spent weeks building, programming, and testing a robot using LEGO Mindstorms, as well as working on their research project. The challenge this year is Nano Quest, an exploration of nanotechnology and the world beyond the microscopic level.
The research project involves exploring a current or potential use of nanotechnology, designing an improvement to this technology or finding a challenge the technology solves, and solving it. The Tigers chose to do a pollution themed project and discover how nanotechnology effects pollution.
However, the research project is only one aspect of what the Team has been doing. They have also been focusing on the game itself. There are a total of nine missions, which vary from testing stain-resistant fabric to delivering medicine to a problem spot inside an arm bone. The team decided to attempt 6 of these nine missions, hoping their robot will be able to accomplish them all with almost no human interaction during the two and a half minute time period of a match.
The Tigers have not yet competed, but they will be attending the Bridgeport Local regional, hosted by none other than Team 230, and if they do well, they plan to attend the state-wide competition. Good luck Thundering Tigers!